Hello and welcome!
I'm very honored to be participating in Justine Hovey's "Papercrafters Unite Against Racism Blog Hop." For all the details, participants and more information on how you can help please visit
Justine Hovey's blog post
.
There's not only this blog hop but also a
YouTube hop
and an
InstaHop
on Instagram too!
This is such an important issue, we all must do everything we can to help promote and support the never-ending fight for equality all over the world!
My card uses a wonderfully powerful digital stamp set called
"You Are Enough"
and it is
ON SALE
for $3.90
right now! Click on the link and you will be taken to the stamp set.
All stamps in the
Polka Dot Orchard store
are on sale for 35% off right now.
Here's a look at this set:
Isn't that a gorgeous image and the sentiments are very meaningful as well.
I used the sentiment on the left for my card, but I split it apart into separate images by duplicating the image first, and then cropping each line with my cropping tool in Pages on my MacBook, and then I saved each cropped image as a separate image.
Then I imported the parts I wanted into my document to print on kraft card stock.
I took the holding hands image and imported it into my Pages document on my MacBook and then reduced the size to quite small to .85 wide and .95 tall. Then I duplicated it many times to fill in the slimline card front panel that was 7 5/8" by 2 5/8".
To save ink and make sure my size was correct, I first printed in in grayscale on regular copy paper.
This was you can save ink and not waste ink or a good piece of card stock and double check that your images are all place correctly and that it comes out the right size.
Below is a short video on how I made my card, if you'd rather watch in on YouTube, click
HERE
.
Here's another look at my card:
I have linked all my supplies below if you are interested.
And here's one last look at my card:
THE NEXT PERSON ON THIS BLOG HOP IS:
Rebecca
Thanks so much for stopping by!
*************************************
I have used some affiliate links in my post, what does this mean? If you click on some of the blue links, not the photos, below and shop from them, I will receive a small commission from the sale which is no additional cost to you but compensates me for using the product and my time. Thanks so much!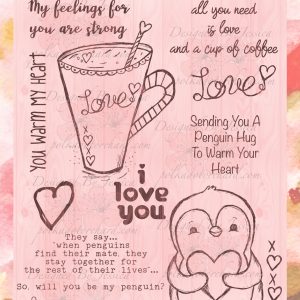 PDO Digital Stamps
Shop at:
PDO

PFS Slimline Diagonal
Shop at:
SSS

GKD White Card stock
Shop at:
SSS

SN Pastel Markers
Shop at:
SSS | SC

Tombo XL Mono glue
Shop at:
SSS | SC

Gemini Jr
Shop at:
SSS

SSS Heart Breeze
Shop at:
SSS

Kraft Printable Card Stock
Shop at:
AMZ

HP 8710 Printer
Shop at:
AMZ

Wink of Stella
Shop at:
SSS | SC

TH Glass Media Mat
Shop at:
SSS

Fun Foam
Shop at:
SSS

SSS Assorted Card Stock
Shop at:
SSS